Save Time, Money and Headaches
Let me start by saying any organic growth like moss, algae (black streaks), mold or lichen are alien invaders. They do not belong on the surfaces of your home. You need to destroy these infections on your delicate surfaces before they cause damage. Do not let the exterior of your home suffer. We have the cure! Our cure kills, destroys and removes these infectious growths SAFELY.
In my previous article, soft washing vs pressure washing, I expressed the difference between the two and why it is important to know the difference. If you have not checked out the article yet, please do! Here I wanted to speak more to the soft washing side because this method is used in all our delicate surface cleanings.
You may ask yourself why it is important to know this information or why you would want to hire a professional company to complete your exterior cleaning. I believe it is very important to know this information because your home or office is one of your biggest investments. It is very important to protect your investment. It is important to hire a professional and experienced company to complete this cleaning. Having a company with the experience, knowledge, training and proper tools to complete this cleaning will provide you not only peace of mind but also a longer lasting clean. It is very important to clean and maintain the exterior of your home or office on a regular basis. It is equally important to look for and hire a company that has the proper experience, tools and training. This will save you money and many headaches.
With Hogwash, you will have seasoned and trained professionals completing the clean with commercial grade cleaning solutions and equipment. We know the method of cleaning to use on the cleaning task at hand. We know what special nozzles, hoses, tips and solution mix to use when washing.  I wanted to write a separate article to elaborate more on soft washing. In the pressure washing industry, roof and house washing and soft washing go hand in hand. Experienced Professionals know that you never use pressure of any type on a roof or siding when cleaning it. Other terms used in the pressure washing industry include low pressure washing and no pressure washing. No matter which term you like to use, the result is a clean exterior that hasn't been damaged from high pressure equipment
What is Soft Washing?
Soft washing is the new revolution in cleaning your exterior. Just like pressure washing, soft washing has its place in the exterior cleaning world.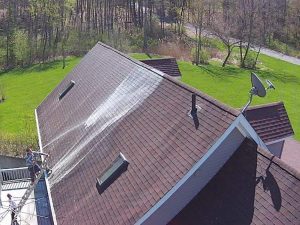 It is the only method proven to safely eradicate organic infections like algae (black streaks), moss, lichen, mildew or mold from delicate surfaces such as siding, roofs, decks, fences and stucco. The pressure that should be applied to your home is comparable to a heavy rain storm or pressure of a normal garden hose. You want to use a method that is recommended or you could void any manufacturer warranty. Trust me, if you look in the fine print of your shingled roof manufacturer, you will see written into their warranties that any pressure washing to the shingle will void the warranty. Do not put yourself in that predicament. Pressure washers can and will cause damage if you use them on delicate surfaces.  Adding inexperience to the mix and you could be looking at a mess.
Our soft washing method is completed by using soft wash pumps to apply a commercial grade solution and surfactant at low pressure to clean delicate surfaces. Our systems consist of a holding tank for our solution, a holding tank for our surfactant, a holding tank for water, a solution pump, hose and hose reels, marine battery, trigger gun to control flow, and special nozzles to spray the solution. These systems are setup to allow a metered solution mix to be applied to the exterior surfaces. This is beneficial because it allows the solution to do the work without using unnecessary pressure. Now soft washing is not only about the system setup but also the technique of applications. You need to know how to spray the solution coming out of the soft washing trigger gun. It is very important to have proper training and experience. Inexperience with the technique could lead to improper cleaning. Looking for a company to complete your cleanings should take time. You want to look at their overall experience and knowledge.
Here at Hogwash, we go through extensive training in safety and the soft washing method, we attend seminars, invest in commercial grade equipment and solutions, know all the governmental laws and continue to educate on innovative changes in our special niche business. We also carry liability and bonding policies to give additional peace of mind to our clients. You will find that Hogwash Cleaning Solutions is your go to company for anything exterior, especially pertaining to your delicate surfaces. We pride ourselves on the service we provide and the effectiveness of our product. The cost to have us clean is significantly less than it would be to replace it. We can add instant curb appeal and increase the value of a home with a simple clean. We are a distinguished company and no one does what we do. We see those organic growths as an alien invader hanging on the surfaces of your home. We do not want this diseased invader to continue spreading on and around your home. We have the cure! Soft washing with our cleaning solution will kill the microbe and give life back to its host. Let us show you the Hogwash Difference. We know you will not be disappointed. Keep and maintain the life of the surfaces around your home or business.