Commercial

Cleaning Services
First Impressions Do Matter
SOFT WASHING,
A NON PRESSURE CLEANING

.
This method is used to do exterior cleaning on delicate surfaces such as vinyl siding, gutters, and soffits. Soft Washing allows for a deep penetrating clean without the use of high pressure which can cause damage on those types of surfaces.
We use the best suited method to clean the delicate exterior surfaces of your business. We always use the soft washing method on roofs. Our method is safe for all types of roofing such as asphalt, shingles, slate or cedar shake.
Roofing – Asphalt, Shingles, Slate, Cedar shake and more!
Vinyl Siding
Gutters
Soffits
And More!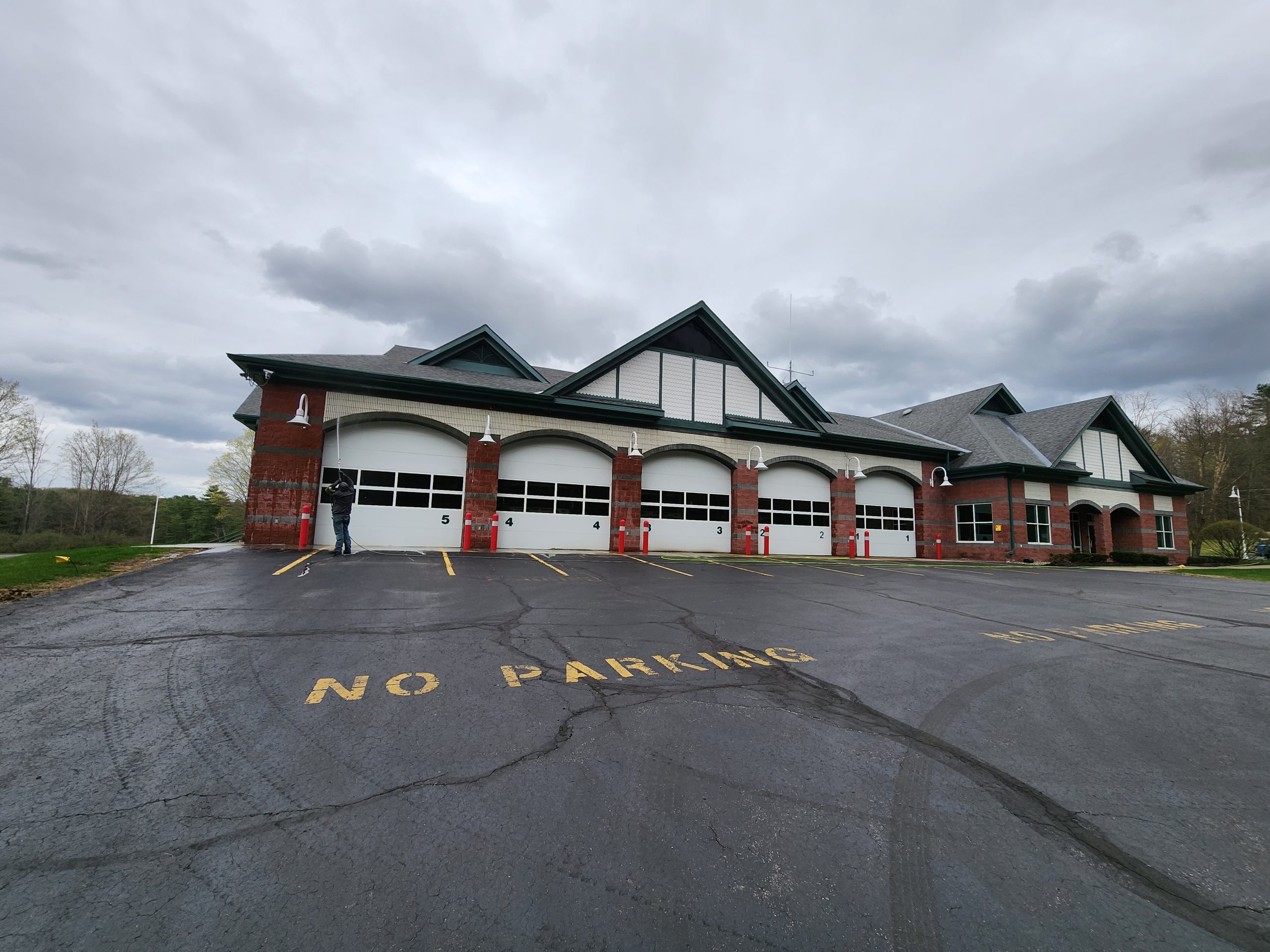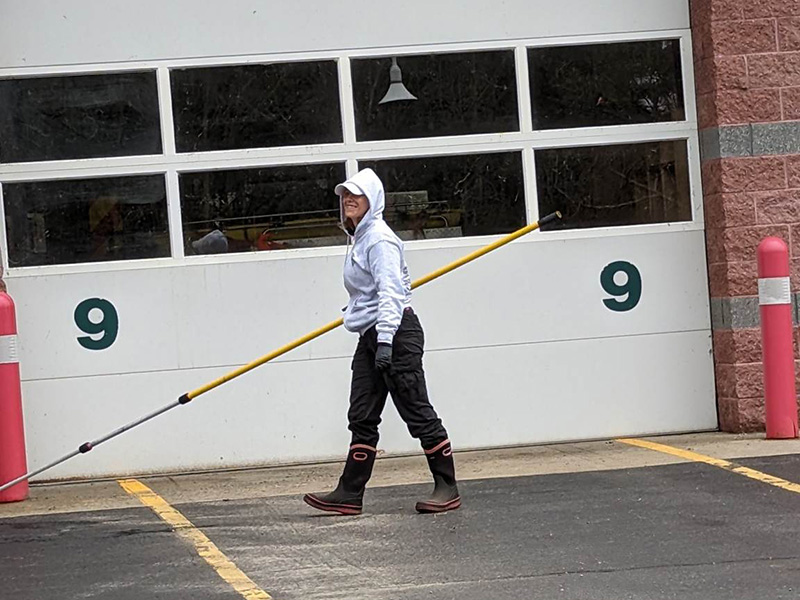 PRESSURE WASHING,
HOT OR COLD WATER

.
We offer pressure washing using hot or cold water. Depending on the need, our technicians will determine whether cold or hot water is needed.
When your business gets covered with the everyday dirt, grime, mold and mildew, it's time to call Hogwash Cleaning Solutions to clean your business's exterior. Exterior washing is necessary, if you want to keep your business looking great and to maintain or even increase your value.
The good news is cleaning commercially is fairly easy if you have the right equipment and the know-how. Hogwash Cleaning Solutions is the answer to all your cleaning needs. We know what method is safe for all surfaces.
Decks
Patios
Fencing
Driveways
Sidewalks, Walkways, and Paths
Pool Areas
ROOF CLEANING
VIA SOFT WASHING

.
Cleaning a roof is something that most business owners are scared to do because of the risk associated with it. Two common reasons we come across are the risks of falling off and the cost of replacement due to the roof being cleaned incorrectly. When you mix soapy water, a steep pitched roof and inexperience, you are asking for trouble. Dangers that roof cleaning entail are far greater of a risk to you than spending the money for an experience professional.
In the pressure washing industry, roof washing and soft washing go hand in hand. Experienced Professionals know that you never use pressure of any type on a roof when cleaning it. Other terms used in the pressure washing industry include low pressure washing and no pressure washing. No matter which term you like to use, the end result is a clean roof that hasn't been damaged from high pressure equipment. Soft washing is the most common because it best suits all the cleaning needs of all types of roofing such as asphalt shingles.
Hogwash Cleaning Solutions ONLY uses the soft washing method in all our roof cleaning jobs. In conjunction, we use a special cleaning solution that deeply penetrates the layers to remove the algae and lichen growing on the surface. The soft washing and special cleaner are an important step to successfully cleaning a roof without causing damage to the shingles. Our solution is safe for the environment so you don't have to worry about it impacting your landscaping or other surfaces. Our technicians have the proper knowledge about soft washing and use of the cleaning solution, that roof can be cleaned safely with no pressure.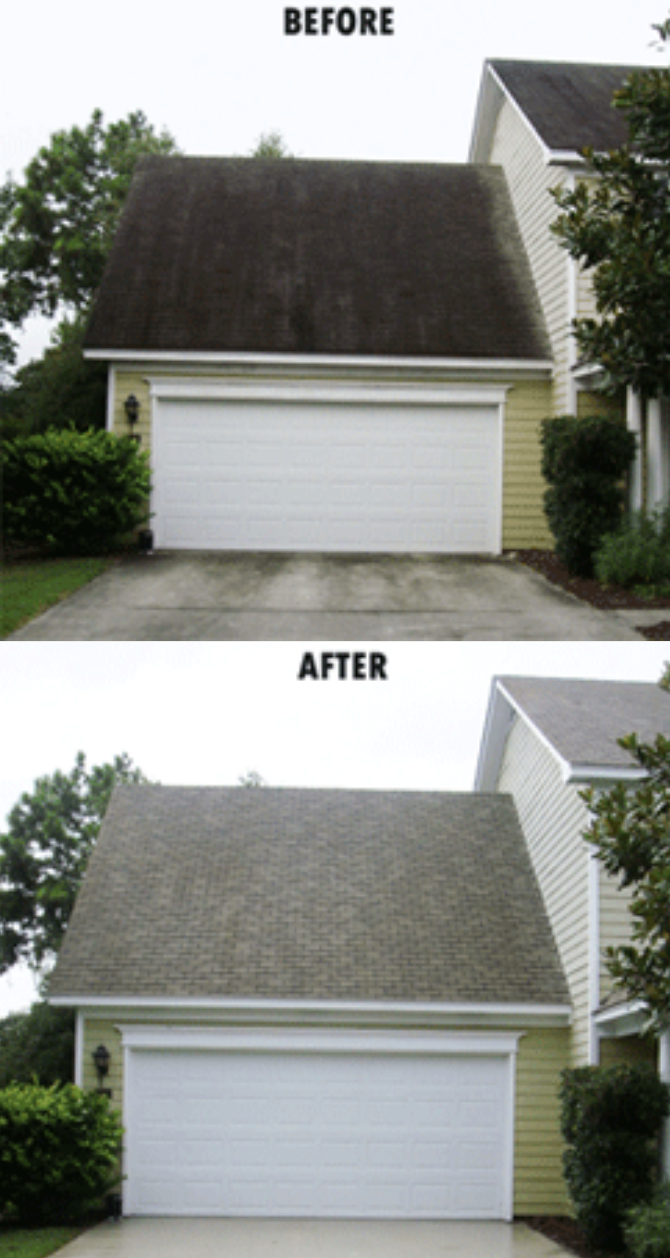 How often are you cleaning your gutters? Clogged gutters are the number one cause of basement water problems and cracked foundations. Unmanaged, this can become a costly repair for your business.
Gutter systems are designed to control the flow of water away from your building, preventing a list of problems. Here are the 5 most common damages that can occur due to clogged gutters:
Flooded Basements – The number one cause of water damage in basements is clogged gutters. When rain water comes off your roof and has nowhere to go, it will find the path of least resistance. Often times this is inside your soffits and siding all the way to the lowest point in the home, your basement.
Cracked Foundations – are most threatening in colder climates when a home's foundation is compromised by the stress of freezing temperatures. When water is allowed to settle around your homes foundation and causes a condition called frost-heave which can cause severe cracks to foundation walls.
Insect Breeding Ground – Free standing water and debris filled gutters are a paradise for several species of insects. Mosquitos, wood destroying insects, wasps, and even termites can live inside your gutters and find their way into your home.
Rotten Wood – is a result of moisture being trapped and cut off from air circulating to dry out the wood fascia around the house. The rotted area will quickly get worse if the gutters are not cleaned.
Personal Harm – Using ladders and walking on roofs can be dangerous if you're not equipped with the right equipment.
CONCRETE
PRESSURE WASHING & CLEANING
Concrete cleaning by Hogwash Cleaning Solutions uses equipment specifically designed to quickly and evenly clean concrete and brick surfaces. We make dramatic improvements to the appearance of your driveway and sidewalk.
Although fairly maintenance free, concrete driveways and concrete sidewalks still can become very dirty and discolored. They are also severely affected by salt and snow, acid rain, moisture and high temperatures. With equipment specifically designed to quickly and evenly clean concrete and brick surfaces, Hogwash's concrete cleaning service can make dramatic improvements to the appearance of your concrete driveway and concrete sidewalk. With our unique, lifetime concrete sealers which penetrate your existing concrete, you can protect it from the damaging elements and form a barrier that keeps even oil from penetrating. Our concrete cleaning service and concrete sealing is the answer to your dirty concrete needs.
Driveways
Sidewalks
Patios
Foundations
Parking Lots
Loading Docks & Ramps
And More!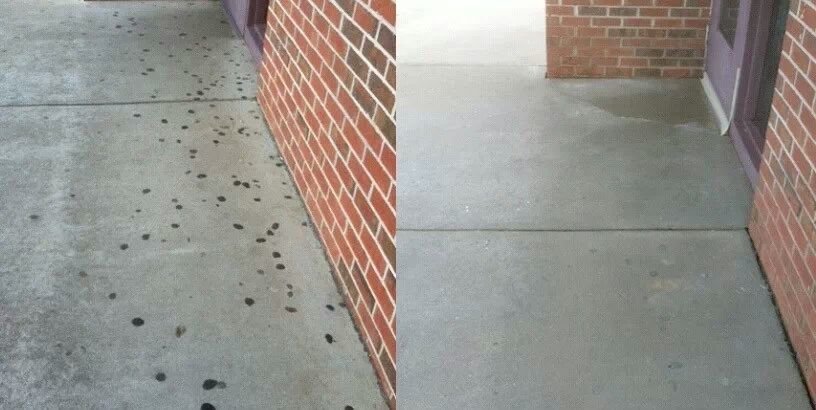 Hogwash Cleaning Solutions is a leading provider of window cleaning services to the residents of Upstate NY. We specialize in professional window cleaning for both residential and commercial customers.
We understand that maintaining your home is a priority, so for this reason, we offer window cleaning services. After all, your windows will provide the first impression to all your visitors. So why not save some time, money and effort and have Hogwash Cleaning Solutions come clean those windows.
We achieve a sparkling clean appearance to your windows with our specialized method. Using only purified water and the best tools, we create a streak free shine every time!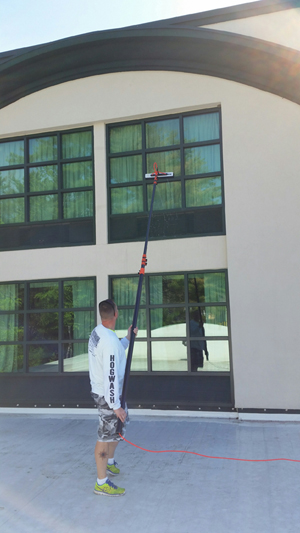 Hogwash Cleaning Solutions brings high-quality, environmentally friendly fleet washing services to your company's facility at your availability.
In addition to providing transportation, your business's vehicle makes a statement about your business. Having a clean fleet of vehicles can help enhance your public image while improving vehicle safety. We can extend the vehicle's life by removing damaging materials such as rust, grease, ice melting chemicals, and other pollutants with our extensive fleet service.
Spot-free reverse osmosis water used on all jobs
Wastewater recovery and disposal per city, state and EPA regulations
Hand brushing of equipment
Degreasing
Trailer rinse out
Rinse wax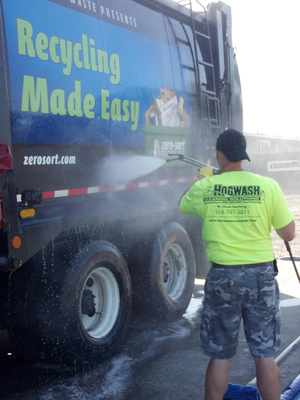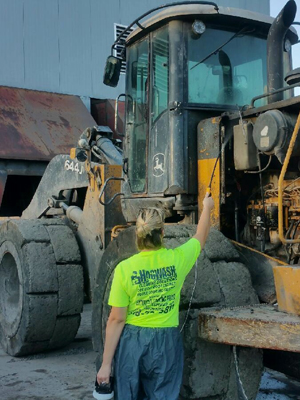 Having your HVAC system's condenser, evaporator coils, and cooling tower regularly cleaned and inspected ensure's peak efficiency and helps with the safety of your facility and customers.
Dirty coils can cut the life expectancy of your HVAC equipment by making your unit work harder than normal which in turn increases the cost of your utility bills, effects output air quality, and impacts the comfort level of your facility's occupants. The U.S. Department of Energy claims that compressor energy consumption can increase by as much as 30% due to dirty compressor coils.
Since PTAC units are not tied into a larger centralized system, each unit operates independently and is largely controlled by the guest or occupant in the room. The thermostats are rarely placed on any sort of schedule, so the units operate for much longer than conventional HVAC systems. Obviously, by optimizing the schedule of an HVAC system, one can reduce unnecessary spends on energy, etc. Consequently, PTAC units operate for much longer than they actually need to.
The longer a PTAC unit runs, the more air moves over the evaporator and condenser coils, the more contaminants such as dirt, dust, mold spores, moisture and pollen collect inside the unit. As these contaminants build up inside a PTAC unit, they create odors and indoor air quality issues and inhibit the heat exchange process. Drain pans are ideal places for bacteria and mold to grow. Since PTAC units operate off 100% outside air, they introduce a number of contaminants and indoor air pollutants into the environment. Ultimately, the effects can be very costly.
In order to prevent these costly effects, PTAC cleaning is imperative. PTAC units need to be cleaned, disinfected and deodorized on a regular basis. While the solution sounds simple, it's very hard for maintenance staff to perform PTAC cleaning cost effectively. Following conventional cleaning methods that involves PTAC cleaning to be conducted outside, it can take the average two-person maintenance team upwards of two hours to perform PTAC cleaning on one unit. That's four man hours to clean one PTAC unit. Very few facilities can afford to invest that amount of time on PTAC cleaning. This is why our clients find it beneficial to have Hogwash Cleaning Solutions perform the cleaning maintenance for them.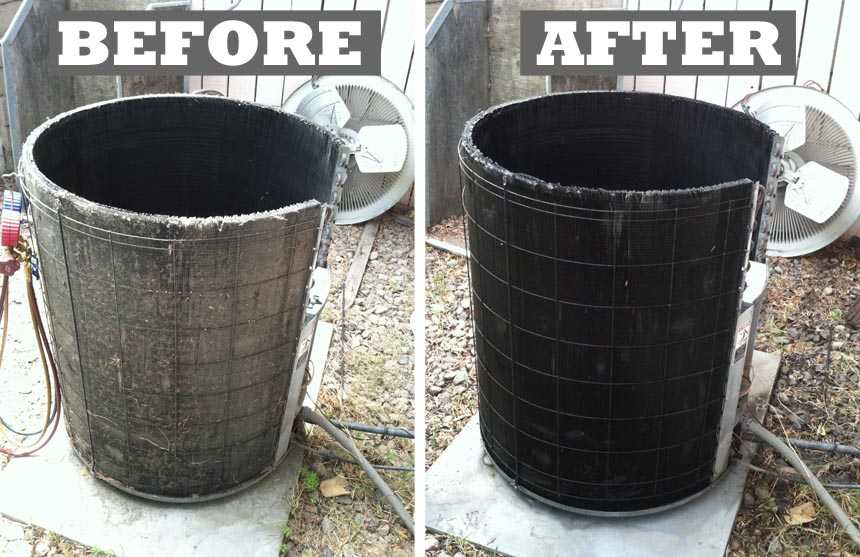 Over time, debris and dust from daily operations collect on overhead pipes, ductwork, light fixtures, structural steel, and ceiling plenums. Continued maintenance of overhead pipes and HVAC systems are crucial to the air quality indoors for both employees and customers.
Let the experienced Hogwash team tackle your tough to reach places. Our highly skilled technicians are able to take care of any cleaning needs that may not be directly in sight from the ground while working side by side to allow continued operations of your facility.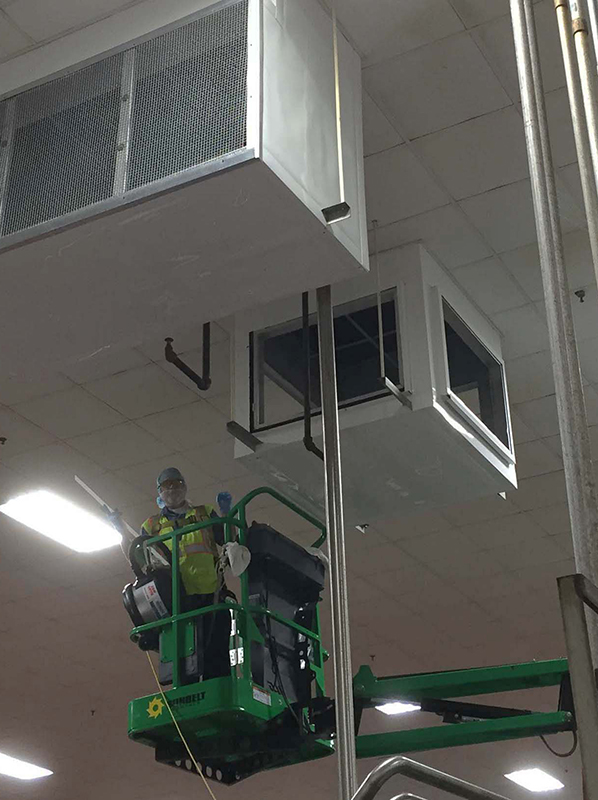 "If It's Dirty, We Clean It!"
Contact Us Today for a Complimentary Estimate
ABOUT HOGWASH CLEANING SOLUTIONS
If you are looking for the perfect company to perform those exterior cleaning services in Upstate NY, you won't find a company with a better track record than Hogwash Cleaning Solutions. A family owned and operated business! We make your life easy by providing you with cost saving benefits for a variety of exterior cleaning services for your commercial or residential properties.