What's The Difference?
Here at Hogwash Cleaning Solutions, we use two separate methods of cleaning. Depending on what surface is being cleaned will determine the method.  Please note, in the pressure washing industry we are trained and certified to complete our services. It is up to us to determine the appropriate method of soft washing or power washing (pressure washing). If an error of judgement happens, then you have some serious damage to surfaces.
Now to the good stuff. You are asking yourself, what is the big deal? what is the difference? Well there is a huge difference and I hope to highlight these so you can make a good decision on who completes your next cleaning services.
Soft Washing

: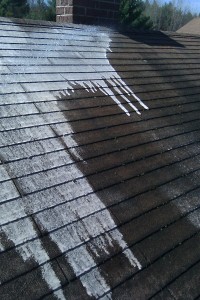 Soft washing is a term we use in our industry which as it sounds is the opposite of pressure washing or power washing. While power washing is the preferred methods of contractors, we utilize this method(soft washing) for our delicate projects. Soft washing is gentle and non abrasive to the delicate surfaces such as vinyl siding, gutters, soffits, certain types of wood and shingles. The pressure is the same PSI (Pounds per square inch) as your garden hose. Power washing can cause serious damage to surfaces that can not withstand the power behind it. We have special soft washing systems to complete our cleaning services. These systems are comprised of our cleaning solution tanks, low pressure pumps, clean water tanks and all necessary tools to complete the procedure. There is never high pressure washers in our soft washing systems. This will give you peace of mind know your delicate surfaces are safe from damage.
The soft washing approach is based on our cleaning method that consists of specialized cleaning solutions to kill off mildew, algae and fungus deep at the root. These cleaning solutions are completely safe to use and are certified by manufactures. The cleaning solutions we use are sprayed on then rinsed off leaving nothing but clean undamaged surfaces.

This is the most effective way to clean your delicate exterior surfaces.
Power Washing:
Power washing is what most people commonly think of when they want their exterior surfaces cleaned. This method is not always the best choice as it can cause SERIOUS damage to surfaces that can't handle the power. This method can be used with hot or cold water and our certified technicians will determine the best option.
A pressure washer or power washer is a mechanical device that uses a combination of high pressure stream and special nozzles to clean hardier surfaces such as concrete walkways, asphalt driveways, patios and some wooden decks. This method should only be used on surfaces that can maintain the pressure as a pressure washer send roughtly 750 to 4000 psi. This method is perfect to remove loose paint for paint prep, mold or mildew, dust and grime from hardy surfaces.
Buyer Beware
Please ensure when you are looking for a company to complete any type of exterior cleaning on your delicate surfaces, you know they have the proper knowledge and equipment. Otherwise you will be paying a tremendous amount of money to fix the damage. We are a company that has been doing this since 2009 and we have the knowledge, training and commercial grade equipment.
This is what happens when an average contractor or company power washes your home and doesn't know what we know…..
It's your choice….
Save yourself time, Money and Headaches. Call the professionals